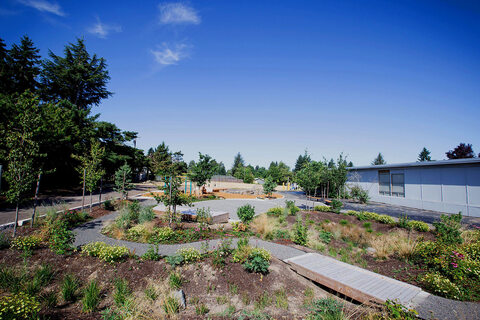 Bumblebees, their back legs heavy with orange pollen, hum among lupine spires at Powell Butte Elementary School's nature playground. The leaves of young trees glow green against a backdrop of dark clouds. A gravel path winds across a bridge and around a stage and a rain garden. There are logs for climbing and boulders for scrambling. There's a large drum set and flower-shaped chimes for playing tunes. Permeable pavers provide gathering space and reduce stormwater runoff. 
In 2020, this nature garden was an expanse of crumbling asphalt. The transformation is the work of local nonprofit Depave in collaboration with the Centennial School District, which serves portions of Gresham and East Portland. 
Help create the next nature play area

On July 16, Depave and Centennial School District are pulling up pavement at Patrick Lynch Elementary school, and they need help.

Volunteers will prybar pre-cut slabs of concrete and asphalt to make room for the garden and play area.

To volunteer, or to learn more about the July 16 event email [email protected]
This playground is part of a project to replace asphalt with active greenspaces at three centennial school: Powell Butte, Oliver and Patrick Lynch. These schools serve some of the most diverse neighborhoods in all of Oregon.  schools all qualify for federal Title 1 funding to support large numbers of students from low-income families.  
The work to build nature playgrounds at the schools was helped by $42,000 from Metro's Nature in Neighborhoods grants program. The grants support projects that connect people to nature, improve water quality and protect wildlife habitat. They're designed to support communities of color and those who may have had barriers accessing Metro grant funding in the past. At the playground's ribbon-cutting event, Metro Councilor Shirley Craddick thanked people for voting yes on the Metro levy that make this kind of project possible. 
Depave was awarded the grant at the end of 2019. Work to rip up and replace 7,400 square ft of asphalt at Powell Butte Elementary was slowed by the pandemic, said Katya Reyna, Depave's program director. And there were other obstacles during the buildout. The trees, shrubs and other native plants are looking great, she notes, even though many of them went into the ground just before last year's heat dome. It's testament to the importance of native plants as the region faces more extreme weather. 
Depave, Reyna said, focuses on projects in neighborhoods that have been historically disenfranchised. These areas tend to have more asphalt, fewer trees and are significantly hotter than more affluent neighborhoods. Shade refuges like this green schoolyard, which is open to the public on weekends, play a crucial role in park-deficient East Portland. 
"The kids feel they own a piece of it," says Powell Butte Elementary Principal Marin Miller. Some of their faces are on the mural, they participated in the garden design, helped with weeding projects, grew ladybugs and butterflies in their classrooms. The space is used as an outdoor classroom where kids learn about pollinators and other wildlife.  he drum set and flower chimes are a big favorite with the kids. "We have one student who uses a wheelchair. He zooms out here every day to play 'Mary Had a Little Lamb,'" Miller says 
"It's so cool to see what the community can do when we come together to make things better for everyone," adds Miller. 
At Oliver Elementary, their garden project was completed this year. Altogether, 3,900 square feet of asphalt was removed. The design was changed during the buildout when the school district announced that the elementary school would be converting to a middle school in fall, 2022. Some play elements were replaced by additional seating spaces for the new middle schoolers to hang out at. The new space also includes rain gardens and a stage. Depave is helping the school secure funding for a mural and futsal court. 
Patrick Lynch Elementary will hold a depaving event on July 16. The pavement, Reyna explains, will be precut into slabs so that volunteers can use prybars to remove it. "We'd love to have folks come out to help us rip up that asphalt," says Reyna. "It's very satisfying." 
Source link