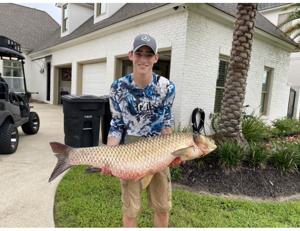 Despite the heat, fish are biting darned near everywhere you want to wet a line, and all these reports come in spirit of cooperating with social distancing amidst this coronavirus surge.
It's relatively easy to maintain distance in a boat, just as long as you're not mingling with too many folks in whatever size craft you have as your fishing platform. Please, take along a mask if you're going to encounter folks not in your fishing party.
And, to survive summer's swelter, take plenty of water, sunscreen and hand sanitizer. Go early and plan to before the sun starts baking you like a big, fat Idaho roaster.
That done, here's the scoop: the Atchafalaya Spillway remains the premier spot in the south-central parishes.
Take worms for hooking up chinquapin in the lower section, crickets to catch all species of bream throughout the vast swamp, and it's your choice of favorite lure for taking bass.
Yep, spinnerbaits, buzzbaits, all forms of soft plastics and shallow-running crankbaits (shad and bream colors) are working on largemouths and smaller spotted bass. Small shiners and dark-colored jigs are good for sac-a-lait.
Working the pilings and the deeper sections (where you can find heavy cover) are producing sac-a-lait at Henderson Lake.
The action in the Verret Basin is best from first light until 10 a.m. Sac-a-lait are taking small shiners under piers and in heavy brush.
There's a tip here and in the Spillway: Start deep on piers and brushpiles, then begin working toward the bank. This is opposite from the way most folks work for their catches, but moving in shallow too early for sac-a-lait spooks the fish.
And, if you're fishing in the big lakes and wider bayous, begin working the outer cypress trees first, and, because of the heat, work the inside of the trees early, then move around to the outside part of the trees. Veteran J.B. Salter (God rest his fish-catching soul!) proved this method time and time again.
Bass are taking topwaters, buzzbaits and spinnerbaits early in this Basin. They're feeding on shad.
Moving water in the Florida Parishes' rivers and bayous is the key to bass and bluegill catches. Use dark baits in dark water and lighter colors in off-color water. Again, look for ambush points, places like brushtops and points and that lone tree jutting out farther from the bank.
Coastal action on speckled trout is better west of the Mississippi River, say from Four Bayous west into lower Terrebonne. Specks are eating shrimp, small pogeys and gorging on big schools of small minnows. Rafts of mullets are keys to holding larger trout.
Redfish and bass are the big targets in most areas east of the Mississippi River, although guides in the Rigolets area are catching specks in Lake Borgne.
A note about the areas around the Houma Navigation Canal. A dredge has been working the outer bay area so know there will be some dirty water near the dredge.
A new boss
Col. Chad Hebert has taken the reins of the Wildlife and Fisheries' Enforcement Division replacing the now-retired Col. Sammy Martin.
Hebert, 48, of Shriever, is a highly decorated 27-year veteran in the division. He was twice named LDWF Agent of the Year and twice earned the LDWF Meritorious Service Award.
Snapper update
Sure does appear Louisiana's private recreational red snapper anglers are taking advantage of decent seas and making the most of the Friday-through-Sunday seasons.
In the 22 "open" days, LA Creel data out Thursday shows the Fourth of July weekend produced 53,443 pounds of red snapper for a season total of 470,287 pounds. That's 60% of the state's private angler quota of 784,332. For a breakdown of the weekly catches, go to the LDWF website: wlf.louisiana.gov/page/red-snapper.
The downside of the red snapper report comes from the LDWF's Enforcement Division, which released details of three Kenner men caught with more red snapper than the two-per-person-per-day limit.
The report stated, "Agents cited Aragon Moreno, 45; Mauricio Perez-Cruz, 51; and, Arnold Miranda, 44, for taking or possessing over the limit of red snapper, taking or possessing undersized red snapper and failing to have recreational offshore landing permits," on a stop in the Empire Channel.
The boating safety inspection stop found the men with 31 red snapper (25 over the limit), and 30 fish measured less than the 16-inch minimum size limit. The men also did not have the required recreational offshore landing permit.
The three face fines of up to $350 and 60 days in jail for each offense, and a $50 fine and 15 days in jail for not having the ROLP, along with a possible $860 in civil restitution fines.
No-no on gar
The guys and gals working on the Garfish Rodeo's annual fundraiser benefiting St. Jude's Children's Hospital have decided to cancel the July 25-26 event scheduled from Manny's in Maurepas. It's another coronavirus victim.
New piers
Two new handicap-accessible fishing piers are now open on the Rockefeller Wildlife Refuge in a project to add three new fishing piers (near 560 feet total) and boat docks — the Unit 4 and Mud Hole Structure on Pennzoil Canal and East End on Joseph Harbor Canal. The projects were funded by the Louisiana Trustee Implementation Group from areas impacted by the Deepwater Horizon oil disaster.
Rockefeller WR headquarters is on La. 82 in Cameron and Vermilion parishes.
Source link