Metro's proposed budget for the upcoming fiscal year (2022-2023) continues work on the priorities established by the region's voters. This year's budget includes ongoing payments and spending related to the voter-approved affordable housing, parks and natural areas and Oregon Zoo bond programs, as well as funding for the voter-approved regional supportive housing services measure.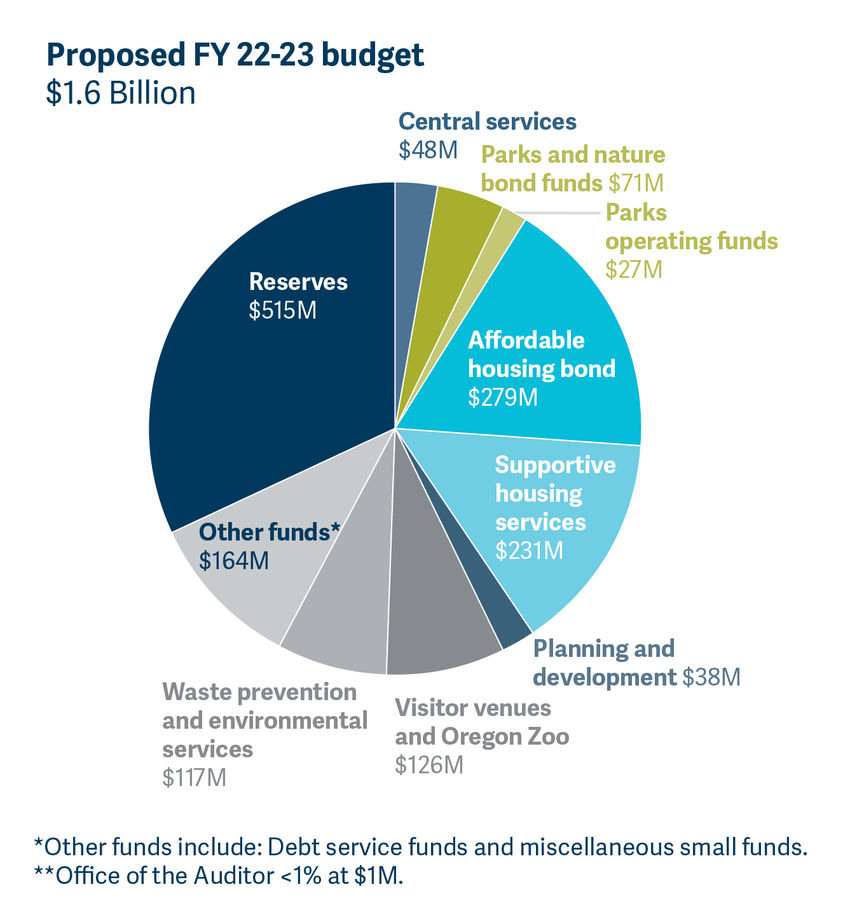 The budget's total of $1.6 billion includes every dollar Metro is projected to collect or save.
Of the $1.6 billion budget, only about $20 million do not have spending restrictions. For example, money in Metro's base property tax rate of $0.096 per $1,000 of assessed value ($19.20 a year for the owner of a $200,000 house) primarily supports operation of the zoo. The 2018 affordable housing bond measure, approved by voters, charges property owners $0.20 per $1,000 of assessed value ($40 a year for that $200,000 house). Money from that is going to help build nearly 3,000 affordable apartments that are either under construction, in permitting or in design.
Most of Metro's budget consists of fee-for-service items – services like managing the region's garbage and recycling system, or overseeing venues like the Oregon Convention Center and Portland Expo Center. Customers pay money to Metro for services, and Metro pays employees or covers capital costs related to those services. Metro also keeps strategic reserves unspent, in case of a crisis, such as a global pandemic that forces the closure of the zoo and convention center to visitors.
What's new
The proposed budget includes:
Increased spending at the Oregon Convention Center, Oregon Zoo, Portland Expo Center and Portland'5 Centers for the Arts in anticipation of increased, post-pandemic business.

Increased spending from Metro's affordable housing and parks & nature bond programs.

Increased revenue and spending, approved by voters in 2020, to pay for supportive housing services.

Increased spending on cleaning up illegally dumped trash throughout the region.
How to comment

Attend a virtual public hearing or join by phone.

May 10 from 10:30 to 11:30 a.m.

May 19 from 11 a.m. to noon

May 26 from 12:30 to 2 p.m.

June 2 from 11:15 to 11:30 a.m.
Source link