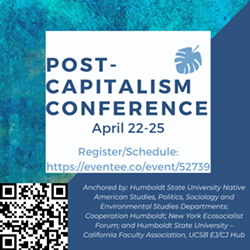 Can you imagine a world after capitalism? David Cobb can, and he wants you to join him.
"We need a system that puts people and planet before profit," Cobb says in a recent phone interview with the Journal.
The good news, Cobb says, is that the core elements of the solidarity economy he and others believe will bring about a more equitable and just world don't need to be imagined — they can be looked at, felt, experienced and replicated. And that's one of the core messages of the Post-Capitalism Conference, a four-day virtual forum that begins Thursday and is hosted by Cooperation Humboldt, the nonprofit Cobb cofounded, and sponsored by Humboldt State University's Native American Studies, Politics, Sociology and Environmental Studies departments, HSU's California Faculty Association and the Environmental Justice/Climate Justice hub at University of California at Santa Barbara.
Cobb said the four-day event will focus on tangible solutions to pervasive problems, with discussions on universal basic income, worker-owned cooperative companies, community land trusts, public banking and food sovereignty designed to showcase work that's currently being done to bring about a more equitable world.
"This is actually happening," he said. "There's a new economic system that's being created right now but we don't actually see it because it's not being talked about."
The conference is designed to meet people where they are, Cobb said, offering more detailed panel discussions — like Thursday's "Regenerative Economic Development to Re-Indigenize" — for those already steeped in the concepts of decolonization and land trusts, alongside ones offering more broad-strokes introductions to larger concepts — like Thursday's "From Where We Are to Where We Want to Be: How Do We Get There." The idea, Cobb said, is to bring together a group of knowledgeable academics, theorists and practitioners to provide insight and information that will help guide people on their own paths to understanding the underlying ideas and putting them into practice.
The COVID-19 pandemic's impacts on the conference are also profound, Cobb said. First, he said the virtual nature of the conference will allow people across the nation and world to participate free of charge, but it's also allowed organizers to tap leaders at the forefront of various movements to participate from around the country. That means the conference will feature names like famed Marxian economist and author Rick Wolff, public banking pioneer Trinity Tran and Emily…


Source link