Even if you're not a tennis fan, by now you'll have heard of Naomi Osaka, 23, a skilled player who has withdrawn from the French Open.
Why did she do this? Well, after deciding to no longer engage with press immediately after games for the benefit her mental health – something that has happened in sport in the past, notably with NBA guard Kyrie Irving (a man) who then received a $60,000 fine – it was suggested to her that her career was no longer safe.
This is not the first time a woman – notably a woman from an ethnic minority background – has been dismissed or made to feel troublesome for doing right by themselves and safeguarding their mental health.
Naomi expected to receive fines for skipping media obligations, but instead was warned she could be defaulted or suspended from future grand slam tournaments.
This speaks volumes for how people, especially women, are treated when they assert boundaries and take measures to protect their mental health.
She had previously noted that doing press talks after games had a significant impact on her wellbeing. One practice she had was to wear headphones in games to fight her social anxiety.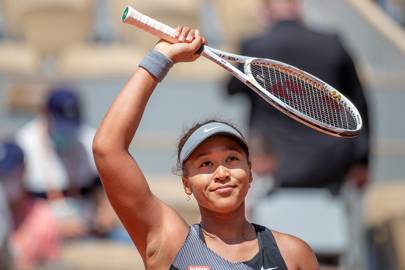 On 31st May, Naomi shared on Twitter: "I think now the best thing for the tournament, the other players and my wellbeing is that I withdraw so that everyone can get back to focusing on the tennis going on in Paris.
"I never wanted to be a distraction and I accept that my timing was not ideal and my message could have been clearer.
"More importantly I would never trivialize mental health or use the term lightly. The truth is that I have suffered long bouts of depression since the U.S. Open in 2018 and I have had a really hard time coping with that."
"Though the tennis press has always been kind to me…I am not a natural public speaker and get huge waves of anxiety before I speak to the world's media.
"So here in Paris I was already feeling vulnerable and anxious so I thought it was better to exercise self-care and skip the press conferences."
Fellow athletes have rallied in support of Naomi, with Serena Williams saying: "The only thing I feel is that I feel for Naomi.
"I feel like I wish I could give her a hug because I know what it's like. Like I said, I've been in those positions. We have different personalities, and people are different."
Basketball player Stephen Curry said: "You shouldn't ever have to make a decision like this – but so damn impressive taking the high road when the powers that be don't protect their own. Major respect."
But the backlash to Naomi's decision – both by the sporting industry and endless people on social media – shows just how intolerant we still are as a society towards women who choose to speak up about their mental health. The overriding sentiment is, because she is a successful athlete, she should just 'get on with it'. Gilles Moretton, the French Tennis Federation president, wished Naomi 'the quickest possible recovery' during a press conference on Monday – as though her mental wellbeing is a physical ailment from which she can simply 'recover'.
It goes to show just how far we still have to go in dismantling the archaic attitudes towards mental health, and taking women seriously when they say they are suffering.
Source link