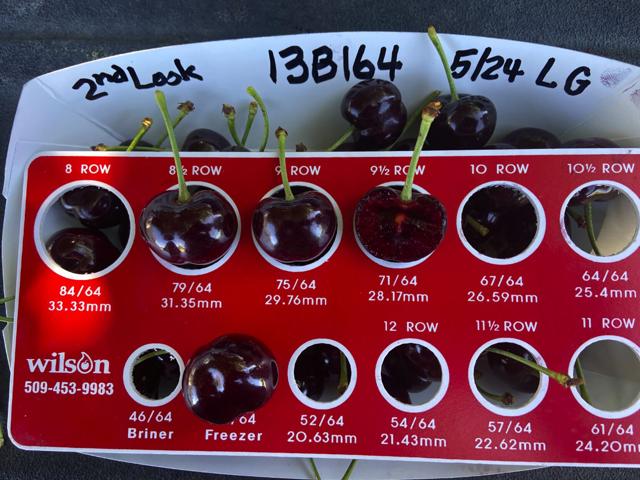 Help is on the way for Kern County cherry growers slammed in recent years by warmer winters and hotter springs.
Breeders including locally based IFG are working on new cherry varieties that ideally require fewer "chill hours" during the course of a winter. The intent is also to spin off trees with fruits that ripen on an earlier schedule, potentially offering local growers a time advantage, and breeds that are less susceptible to stress damage from soaring temperatures in May and early June.
But there's more to it. The fruit must also have the firm texture consumers demand, good flavor, an attractive appearance and the ability to withstand weeks in a shipping container bound for Asia.
Cherries represent an especially urgent case, because although other specialty crops grown in Kern County face similar challenges from changing climate patterns, there is some concern cherries' relatively high temperature sensitivity could force their production out of a county that, in good years, can offer a temporary price advantage to local growers.
Cherry grower Bruce Frost, who produces several varieties east of Bakersfield, said he has not been impressed with many of the varieties breeders have released in recent years. He does what he can to manage, including putting up shade structures, applying whitewash and sometimes running sprinklers to keep his orchards cool at certain times year.
"We're doing the damnedest, as far as surviving down here," he said. "It's not something we take lightly."
Frost said he sometimes worries it's a losing battle, and that ultimately, he may have to move his activities farther north. Hanford and the Fresno and Stockton areas are bigger cherry producers, as is the state of Washington, simply because their higher latitude affords cherry trees cooler temperatures.
Other times Frost said he's optimistic breeders will come up with a solution.
"I think that's a long-term solution, yeah," he said. "It'll be either that or you won't be able to grow cherries here in the valley anymore."
Mohammad Yaghmour, a local orchard adviser with the University of California Cooperative Extension, holds out hope technology will help the county's cherry growers cope with ever warmer conditions.
"Science is always evolving," Yaghmour said. "There's always going to be hope for a solution for what we are dealing with."
Part of what makes the task so time-consuming for companies like IFG is that they employ conventional breeding, not genetic modification.
While new grape varieties can be innovated relatively quickly because they produce within two to three years of planting, cherries take three to five years to put out fruit that can be rated for selection, said the company's South Africa-based international commercial cherry manager, Alywn van Jaarsveld, who oversees an operation with hundreds of acres of experimental trees.
IFG has released 10 commercial cherry varieties since initiating work on the fruit in about 2000; about five times that many breeds are grown commercially. Some or most of IFG's innovations are being planted, van Jaarsveld said, and the company and its grower partners are "on the cusp" of commercial volumes.
"It's going really well," he said.
The original idea was to breed cherries for production in Bakersfield that require fewer chill hours, meaning they would be able to produce well despite spending less time in the cold each year than is required for conventional breeds.
That's half the job, van Jaarsveld said. The other half is selecting and crossbreeding varieties that can survive months of high heat — and ideally, put out fruit that ripens ahead of other varieties.
Timing is a key consideration because, as Frost estimated, 18-pound boxes start the season selling at $120. They decline in price by about $7 per day as more supply hits the market, such that within a week the box sells for 41 percent less money.
Unfortunately for growers in Kern, any variety that delivers product sooner for them would eventually be adopted by growers further north, gradually advancing and extending the harvest industrywide.
The goal at IFG isn't so much to dazzle consumers with exotic flavors, as table grape breeders try to do, but to produce blemish-free fruit that's juicy on the inside and crunchy on the outside — and which can stay that way under refrigeration for more than a month.
The company's license agreements with growers give it a strong incentive to succeed, van Jaarsveld said, because farmer losses cost IFG money, too. That keeps the company hungry for ever better varieties.
"Every year we will add more" to its list of commercial varieties, he said.
Le Grand fruit breeder BQ Genetics is also trying to come up with low-chill-hour cherries with superior firmness, long stems, good stem attachment, high production volume and resistance to fruit damage like so-called doubling, sutures and spurs.
Principal Glen Bradford started breeding fruit in 1981, when California's cherry region extended no further south than Stockton. His company, and university researchers, came up with varieties that could be grown as far south as Arvin.
There has been improvement since those varieties were introduced, he said, and now the company serves customers all over the world, including growers of almonds, apricots, peaches and plums.
Bradford noted that every year the company gives new varieties to Frost, the local cherry grower, for testing. He said BQ sent Frost five already this year that were "hot off the press."
Frost keeps about three dozen experimental varieties going, some of which come from IFG, he said. Even so, he often sees weather-related trouble like blooms followed by little or no harvest and damaged fruit caused by heat stress the previous year.
When temperatures get as high as 110 degrees in late spring, he said, as much as a third of his crop must be culled. That's a heavy financial toll.
"It'd be nice if it was perfect," he said.
Source link