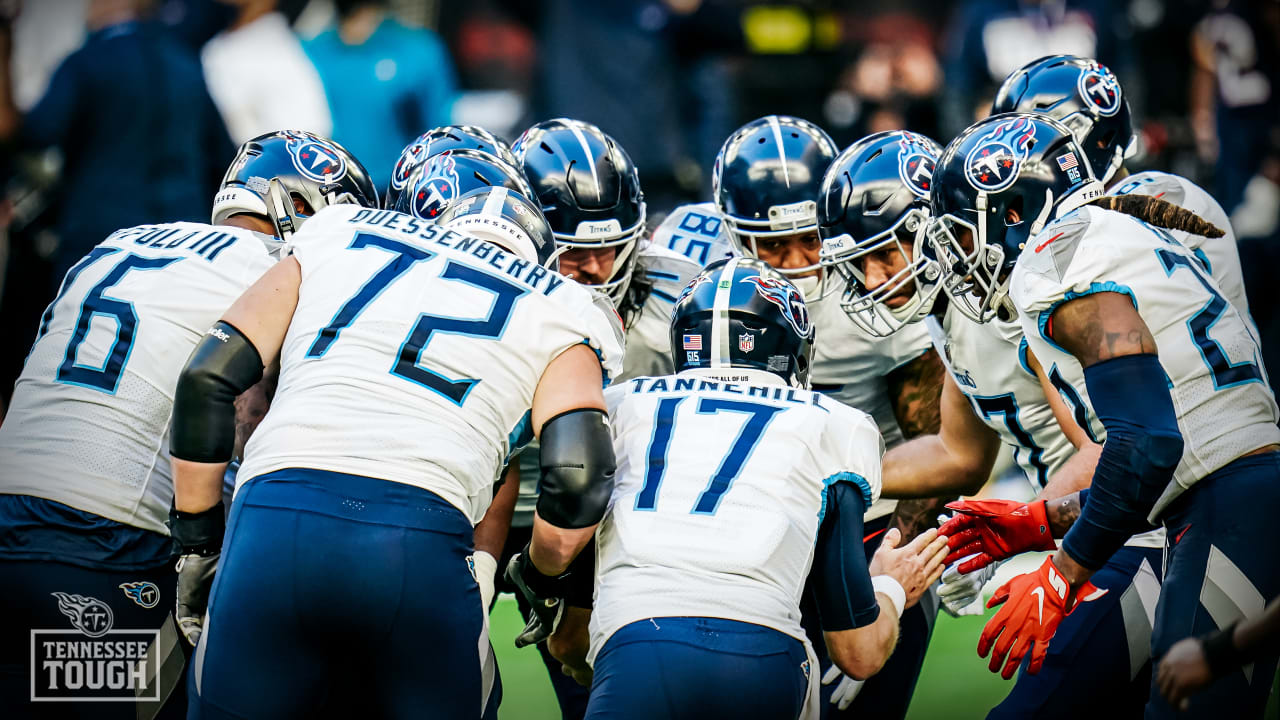 NASHVILLE – The Titans are on the field this week for organized team activities.
By this time next week, we'll be into June – and closing in on training camp.
Questions about the team continue to pour into the mailbag.
Let's tackle another batch in this Tuesday's edition…
Pernell Windom from Arlington, Tennessee
Question: Hi Jim. I hope all is well with you and your family. I have one question: What are the chances we sign Julio Jones? I hope the rumors are true I think we would definitely be a true contender then with what we got right now with the defense improved. I definitely think this would be a good fit for us alongside A.J. Brown and Derrick Henry and company.
Jim: Hey Pernell. Hard to predict on this. I have no idea what other teams are considering, and how much it might take. I saw Adam Schefter report the Falcons are looking for a first-round pick. With that and his price tag, that's pretty steep.
Lou Tomasella from Oradell, New Jersey
Question: Hi Jim. Longtime Oiler/Titan fan going back to the Robert Brazile, Billy "White Shoes" Johnson days. 2 Questions:
1. If Titans make a play for Julio Jones, what would you consider reasonable trade compensation to offer Atlanta considering Julio's age, injury history and lofty salary? I would not want to offer a 1st Rd pick in 2022.
2. Do you think Titans would be better served forgoing Julio and focusing on potential cheaper and considerably younger trade targets such as Anthony Miller or Tim Patrick, or perhaps potential cap casualty cuts such as Jamison Crowder? Your thoughts. Thanks.
Jim: Hey Lou.
1. This is the big question. I agree a first-round pick is too much. And like I said previously, the money part already makes it tough.
2. Possibly, but I think Derrick Henry's opinion trumps mine. Ultimately the GM's opinion is what matters most.
Kenston Farmer from Memphis, Tennessee
Question: Hello Jim! Make it make sense please. I just don't understand the hype with Julio Jones.. I mean i do to a point. I would like to have but when you put some logic to it, it doesn't make sense. Let's trade a valuable draft pick (maybe 2) for a 32-year old, slightly injury prone WR, who at most will be here for two years and pay him the same amount we could have just paid Corey Davis who is 5 years younger. Why restructure contracts for a two-year rental? Let me guess what the fans are gonna say? "cause we are in a window." News for you guys, loser teams and loser fans only think "winning" happens in a "window". If we continue to draft well, spend money in Free agency well, and develop players, our window will stay open no matter who comes and goes. Do fans wanna be like the Broncos and Eagles and have short sighted moves to yes, get a ring, but followed by YEARS of rebuilding and playing meaningless football games after week 5 because you mortgaged the future for right now? OR become a franchise like the Seahawks that have been winning for close to a decade thanks to good drafting, smart FA decisions, and NOT making short sighted 'win now" moves or worried about going for it during "window". Getting Julio will all but guarantee you'd have to sacrifice Landry, Jayon Brown, or any other good free agent next year, much like signing Clowney cost us the ability to resign Jonnu and possibly Corey this past free agency cause the 14 million spent on him could have rolled over for those guys. It's like fans forget this time next year AJ Brown is gonna get a 100 million dollar contract, you have to resign Simmons, and probably Nate Davis. Oh yea… He's not Julio but Josh Reynolds is pretty good. Again, if you wanted to pay your number 2 WR 11 million a year.. You could've just keep the younger guy that you spent 4 years developing and who knew your system.
Jim: Hey Kenston. Good take on the other line of thinking on this.
Jimmy Dee from Battle Ground, Washington
Question: Dear Jim – Julio is too old and too injury prone and way too expensive. Plus, it's not like the team only needs a WR. The team actually needs three players – a WR2, a starter caliber NT, and a Kicker. I keep reading all of this stuff about the Titans need to sign Julio and if you do I think that will kill the Titans 2021 chances for a SB because it will keep you from getting the starter caliber NT and Kicker that you also need.
Jim: Appreciate you also weighing in Jimmy Dee, and now we're moving to a different topic…
Jeremy Brooks from Nashville, Tennessee
Question: Greetings Jim. As always, Titan up. In my opinion, I think the biggest loss of this off-season was losing Jonnu. I think he was a valuable and dependable asset not only for Tannehill in the passing game but also blocking for Henry. I liked watching Pinkney at Vandy (Anchor Down) but what do you think we do at the TE position? Do you think they are comfortable with "Harrrrvaaarrrrddd" (Firkser), Hesse, Pinkney and Swain? Can't wait for the season to start. Thank you and have a blessed day.
Jim: It looks like that's the case for now, although you can scratch Hesse from your list – he was waived earlier this month. The team also has returning tight end Tommy Hudson, and a pair of undrafted free agents at the position – Briley Moore (Kansas State) and Miller Forristall (Alabama). I still suspect we'll see another addition here.
Dominic Spinks from Meridian, Mississippi
Question: Please get this message to the GM or player personnel director:
Jaquarius Landrews was an SEC safety from Mississippi State. He can ball honestly.
He went undrafted to the NY Giants
I'm asking to please give him a tryout
COVID has been tough on a lot of people but this kid deserves another opportunity.
Jim: Thanks Dominic. I'm sure the GM reads the mailbag…
Chris Shaw from Brentwood, Tennessee
Question: How do you feel about the Dez Fitzpatrick pick? I was completely baffled by the Titans passing on Tylan Wallace TWICE in the 3rd round and then eventually trading up to select Fitzpatrick when they could've waited and still taken Tylan. Don't get me wrong, despite AJ's confidence in Moore, taking him in the 1st would've been a reach and a mistake but I'm left feeling the same about Fitzpatrick when a dominant talent from OKSt was on the board and ends up getting selected 22 picks later.
Jim: Hey Chris. I liked the Fitzpatrick pick – I thought he was a good player at Louisville, and I've been impressed with him so far. He made a good first impression during rookie minicamp, and he's handled himself well in interviews. In time, of course, we'll find out whether he was the right pick. The history of the draft is filled with either/or examples like the one you provided. We'll see how this one plays out…
Michaela Higginbotham from Colfax, North Carolina
Question: Hello Mr.Wyatt. I was looking to get tickets for this year, but don't know how expensive they would be. Do you have any idea or price range? Thanks so much! Go Titans!!
Jim: Hi Michaela. Here's the link to check it out: CLICK HERE.
Max Brady from Harriman, Tennessee
Question: Hey man, big-time long-term fan. First question though. Is there any news about bringing the Titans Caravan back? Thought it was a great way to get Titans in other parts of Tennessee.
Also, I'm a little confused about DC position, is Jim Schwartz just implementing his scheme or is he mentoring?
Jim: Hey Max. Hopefully next year on the Caravan.
As for the DC position, Shane Bowen is the DC, and he'll be the one calling the shots. I'm sure Mike Vrabel will be involved as well. As for Schwartz, it sounds like he'll be a resource – a valuable one — for the coaching staff. Sure, he can also provide inside for the players. His title is senior defensive assistant, and he's on the staff to assist.
Bob Galasso from Johnstown, Pennsylvania
Question: Hi Jim! This is my first time writing in and say I really enjoy reading the Titan Mailbag and the great information you provide! Great job, I have followed the Titans and before them the Houston Oilers since the early 1970's. I have grown up in Johnstown, PA which is just outside of Pittsburgh in the heart of Steeler Country. Going back to when the Oilers and Steelers battled each other whether it was in the Astrodome or confines of Three Rivers Stadium, each game was a hard-fought battle. I was watching when the Oilers lost both of their AFC Championship games in the late 70s and although they ( Oilers) never were able to "kick the door in" I was still their biggest fan in our area. Bum Phillips, Dan Pastorini, Earl Campbell have left me with nothing but great memories to live by. I still have my Luv Ya Blue sign from that era as well as my "Run and Shoot" poster when Warren Moon led the Oilers to greatness during that decade as well. I'll never forget watching the Titans during their first year in Nashville march through the playoffs beginning with the Music City Miracle and then winning the AFC Conference Championship. Although we lost in the Super Bowl to the Rams the Titans fought hard up until their last possession coming up 3 feet short. I am proud of this legacy and the history behind it. I look forward to this season with a lot of optimism as well and am already looking to when the Titans travel here to Western PA to take on the Steelers. If anything like the past history, it should make for a great game. Thanks for taking the time to read this email, and please continue to do the great job you have been doing. The Titans organization and all of us Titans fans are lucky to have you!! Go Titans!!
Jim: Great to hear from you, Bob! Sounds like you've been a loyal and diehard fan over the years. Thanks for the kind words, thanks for reading, and don't be a stranger!
Have a great week everyone!
Source link