Southwest Power Pool, the company responsible for managing the electric grid in the Central U.S., will begin controlled outages to maintain system reliability in Little Rock, a news release states.
​​​​​The grid operator has declared an Energy Emergency Alert level 3, as electricity use exceeds available generation, according to the news release.
The alert was enacted at 10 a.m. Monday when it was forced to begin relying on reserve energy.
Southwest Power Pool has directed its member utilities to implement controlled interruptions of service effective immediately in order to prevent further and more widespread and uncontrolled outages, the release states.
"In our history as a grid operator, this is an unprecedented event and marks the first time SPP has ever had to call for controlled interruptions of service," said SPP's executive vice president and chief operating officer Lanny Nickell.
"It's a last resort that we understand puts a burden on our member utilities and the customers they serve, but it's a step we're consciously taking to prevent circumstances from getting worse."
Individual utilities will determine how to limit their use by the required amount based on their own emergency operating plans, the release states.
– Brianna Kwasnik
1:14 p.m.: Little Rock district lays out week's plans
The Little Rock School District on Monday laid out school plans for this week of inclement winter weather.
Tuesday and Wednesday will be full-virtual instruction days for schools. All teachers should work with their students from their homes using the Schoology learning management platform.
Thursday and Friday will also be virtual school days but no new instructional material will be introduced by teachers to students. Students should use Thursday and Friday to catch up on any assignments, participate in enrichment activities or receive extra support from teachers, "and when done, have a little fun," the district's notice states.
All after school activities and practices are cancelled for Monday and Tuesday.
Little Rock School District offices are closed Monday and will be closed on Tuesday, as well.
All staff, with the exception of teachers, should check with their supervisors about the ability to work remotely on Tuesday or make arrangements with their supervisors to make up the missed workday. District administrators will continue to monitor the weather and will evaluate the operating status for district offices daily.
The district will keep staff and families updated on school operations through the ParentLink communication system as well as through the district's website, social media accounts, LRSD-TV, and traditional media outlets such as newspaper, television and radio. The district's free smartphone app is also available for downloading.
– Cynthia Howell
1 p.m.: More than 30 flights canceled at Little Rock airport
Thirty-one flights have been canceled at Bill and Hillary Clinton National Airport on Monday amid severe winter weather, airport spokesman Shane Carter said in a phone interview around noon Monday.
The airport had not seen any inbound or outbound flights yet on Monday, he said.
Additional flight cancellations occurred on Sunday afternoon into the evening, but the airport did see some arrivals and departures, Carter said, calling it "a mixture."
12:14 p.m.: Utilities ask customers to conserve gas
​​​​​Arkansas utilities have asked customers to conserve the amount of natural gas they use, as additional strain on energy sources could cause service disruptions, a Monday news release by the Arkansas Department of Emergency Management states.
The agency recommends Arkansans to reduce consumption by keeping thermostats between 60 and 65 degrees during the day while at home, and lowering the setting an additional 5 to 10 degrees while out. The temperature of water heaters can also be reduced.
Residents can warm their homes by opening blinds and shades to let in sunlight, as well as by closing doors to rooms not being used, the release states. The agency also encouraged residents to keep extra layers of clothing, blankets, water and other preparedness items accessible.
"Utilities are asking their customers for help in conserving the available natural gas supply during this winter weather event," Arkansas Division of Emergency Management Director A.J. Gary said in the release. "Natural gas continues to be a reliable source of energy for Arkansans, however these are unusual circumstances and the call for conservation this week is one that will help the utilities while they work to keep wellheads functioning."
A state Department of Transportation map continued to show snow on most Arkansas roads and highways at noon Monday. In Lonoke County on Interstate 40, about 1.5 miles west of Carlisle, an ARDOT plow truck was in the median. The interstate's inside westbound lane was affected.
The only street closure in Little Rock was at the John Barrow Road overpass of I-630, the Little Rock Police Department said in a tweet issued shortly before 11:30 a.m. on Monday.
In an email, department spokesman Mark Edwards said active updates would be released on the department's Facebook and Twitter pages.
– Josh Snyder, Joseph Flaherty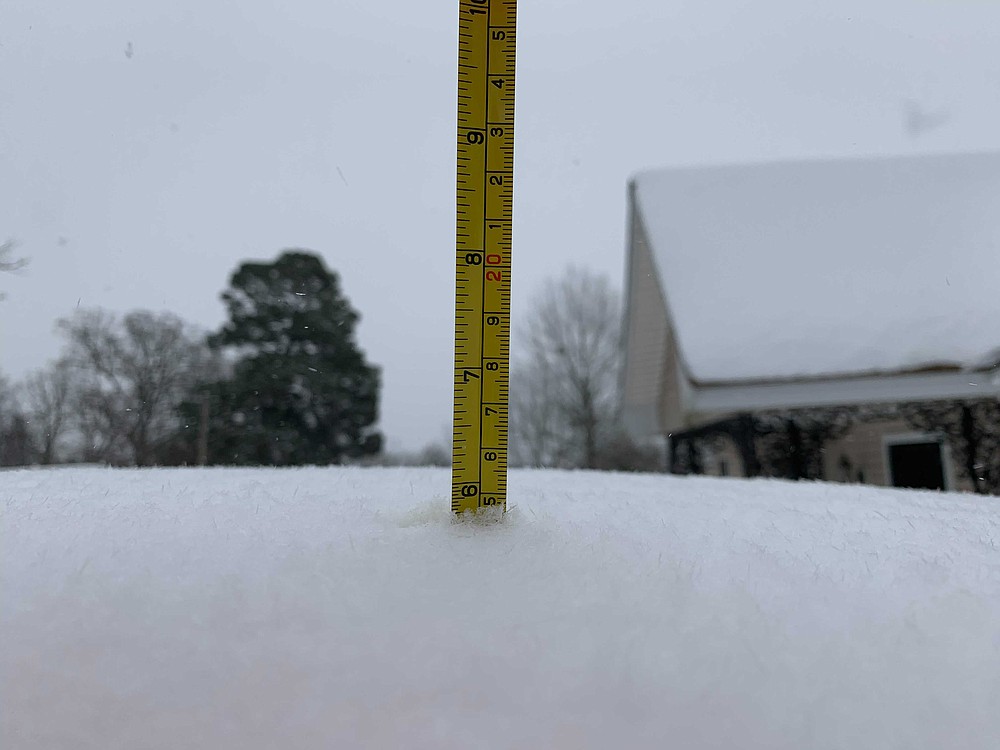 Snowfall in some parts of Little Rock was close to 6 inches deep around 11 a.m. Monday.
11 a.m.: Forecasters warn of 'extreme,"http://www.arkansasonline.com/news/2021/feb/15/forecasters-cite-extreme-rare-and-dangerous-cold-a/"rare' and 'dangerous' cold across state
Central Arkansas has reportedly seen six to eight inches of snowfall through Monday morning, according to the National Weather Service.
Forecasters caution that 'extreme,' 'rare' and 'dangerous' cold will be in effect at least through Tuesday.
Parts of Central Arkansas may see another inch of snow, but for the most part, according to meteorologist Jeff Hood, snow is beginning to taper off.
Northern, eastern, and northeastern parts of the state can expect snowfall through the afternoon and for things to wrap up by Monday evening, Hood said. Though reporting colder temperatures, near zero, snowfall amounts have ranged from two to four inches, Hood said. By evening, amounts may reach six to eight, according to the National Weather Service.
According to Hood, the state isn't seeing record temperatures everywhere yet, but we're "knocking on the door."
"Any time we get single digits as far south as Central Arkansas, it's pretty remarkable," Hood said.
As of 10:30 a.m. Monday, Entergy reported over 3,850 affected customers as a result of the inclement weather.
Entergy's website shows reported outages by zip code and area and cautions restoration times are estimates.
While the snow is expected to taper off in most of the state by Monday evening the latest, Hood said this is "round one of two" and we can expect to see a similar performance across the state beginning Tuesday night.
Several inches of snow are expected throughout the state through Wednesday and Thursday the latest, according to the National Weather Service.
Anyone planning to play in the snow this week should keep in mind the risk of exposure and staying warm, Hood cautioned. He recommends taking breaks to come inside and get warm.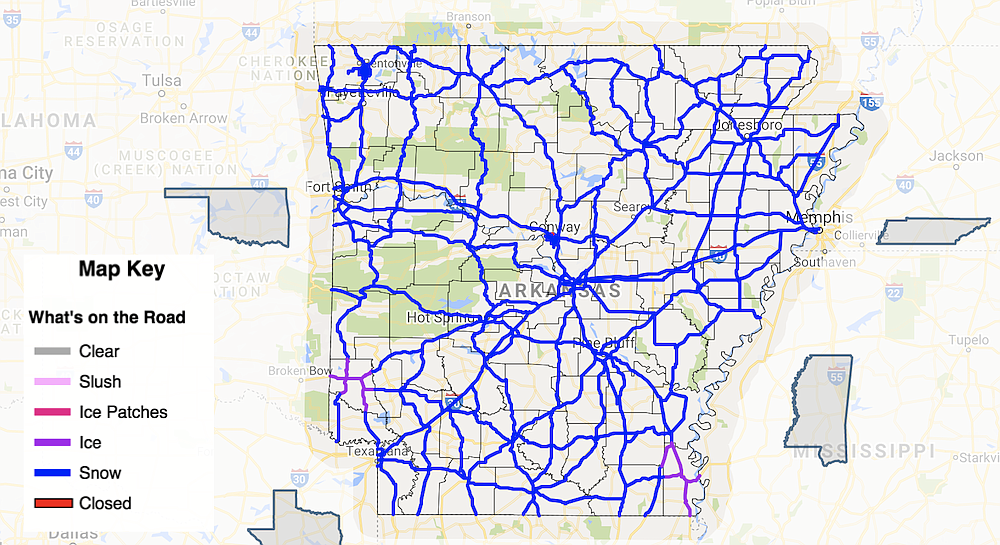 A traffic map shows impacts on the roads as a result of snow.
For a list of closings across the state, visit arkansasonline.com/closings.
For the latest weather updates, visit the National Weather Service of Little Rock on Twitter twitter.com/NWSLittleRock.
For real-time traffic updates, visit idrivearkansas.com.
For a list of reported power outages in your area, visit entergynewsroom.com/storm-center.
To submit your snow photos, click here: arkansasonline.com/2021snowphotos
– Brianna Kwasnik