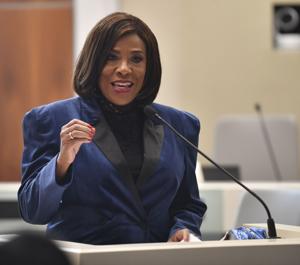 Sharon Weston Broome is pledging to have at least 30% of the projects included in her $1 billion roads improvement project completed before the end of her current second term as mayor-president.
"This would be a $300 million capital expenditure on infrastructure improvements—not only improving our infrastructure but creating a huge stimulus in our local economy," Broome said in her annual State of the City address, which she delivered virtually Wednesday to the Baton Rouge Rotary Club.
"And yes, in 2021, we will continue the rollout of our Light Synchronization program that we started last year, with the anticipated competition date of all 470 lights in 2023," she added.  
Upgrades expected to alleviate traffic flow along parts of Bluebonnet, Nicholson Drive and Jefferson Highway are among the 20 road improvement…
Broome's speech Wednesday reiterated many of her administration's previously discussed  goals and touched on her outreach initiative to address the city-parish's crime rate, which reached an historic spike last year against the backdrop of the coronavirus pandemic. 
Broome acknowledged a report this week from The Advocate which highlighted at least 114 people who were killed last year in the city-parish.
Debra Ross was headed to her first Bible study of 2020 when she stopped home to change clothes and found herself walking into a nightmare: Her…
"While the Jan. 8 headline surrounding the homicides in our city is daunting, I encourage you to read the article in its entirety because the writers offer insight about the complexities of crime," Broome said. "These complexities mean there is no band-aid solution that will effectively end crime in our community." 
Broome also offered some insight into how her administration intends to guide the city-parish through the ongoing pandemic, outlined a batch of smaller initiatives to address blight and litter and her rededication to address systematic racism at the local level through recommendations from the commission she appointed last year following the summer of intense protest around police reform. 
This is a developing story that will be updated.